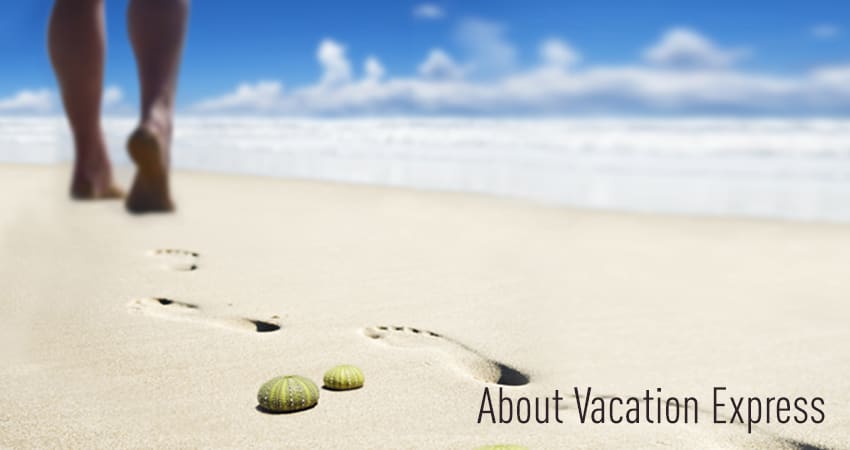 About Vacation Express
Your One-Stop-Shop for Mexico and Caribbean Getaways
Company Profile
Vacation Express, one of the largest tour operators nationwide, has been in business for over 30 years. The company is based in Atlanta, Georgia, and began its operation in 1989 offering air/land vacation packages to Jamaica. The company introduced its first charter flight to Cancun from Atlanta in 1992. Throughout the 1990's, Vacation Express rapidly grew to become the premier charter operator in the Southeast and Midwestern part of the US. During this growth decade, Vacation Express added an extensive scheduled air program to the Caribbean, Mexico and Costa Rica from most U.S. cities. Air/land and hotel only packages are offered to nearly twenty popular tropical destinations offering flight options on all U.S. and other major airline partners. Today Vacation Express is part of Sunwing under the Westjet Group, and has sold well over 2 million vacation packages to its exotic destinations.
Consumer Protection
Vacation Express is a member of the American Society of Travel Agents [ASTA] and has a $1 million Errors and Omissions policy with The Hanover Insurance Group.
The Vacation Express Team
The team members at Vacation Express are committed to maintaining the highest standards in the tour operator business and to delivering the best value to its clients and travel agent partners. Hence, our motto: #1 TO THE SUN. Each team member is carefully selected and properly trained on all aspects of the products and programs offered, including extensive destination travel, in order to provide first-hand knowledge of Vacation Express destinations and hotels.
Information on destination weddings & group travel
We make traveling as groups easy! Check out our
Groups Services
page for important information and perks we offer, or you can email
groups@vacationexpress.com
to begin planning your upcoming special event.
Air Department
For any questions about your airfare on a major airline, you can contact our Air Department. Make sure to have your ticket information easily available when you reach out. The hours for the Air Department are Monday-Friday 9:00am-7:00pm ET and Saturday-Sunday 10:00am-4:00pm ET.
Bookings & Reservations
To book your reservation or to inquire about an existing reservation, please use our convenient online booking engine, or call us directly at 1-800-309-4717 nationwide, or at 404-321-7742 in Atlanta.
Hours of Operation
5:00am-12:00am ET

Mailing Address
3500 Piedmont Rd
Suite 600
Atlanta, GA 30305