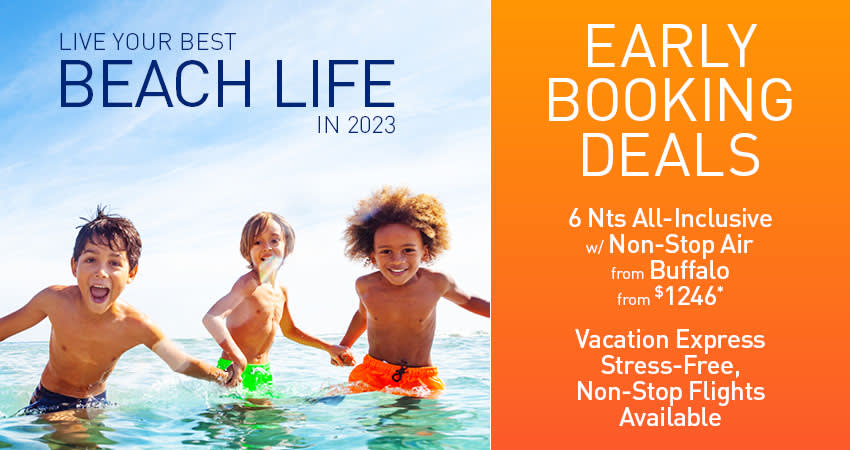 Best Vacation Packages from Buffalo
All-Inclusive Vacation Packages w/ Non-Stop Air
If you like to plan ahead with an early bird deal, look no further! With non-stop air for spring and summer from Buffalo and all-inclusive resorts, you'll find the perfect package to Mexico. Find our best deals below or pick your ideal dates and shop using our booking box on this page.
CANCUN ▪ RIVIERA MAYA ▪ COZUMEL
Save Even More with Exclusive Non-Stop Flights
Save your spot on our VE exclusive, non-stop flights with a low $225 deposit! Here are some of our top picks or find the best deals from your departure city using the booking box on this page.
BUFFALO [BUF]
Cancun ▪ 6-Nights ▪ Sundays ▪ 2/19/23 - 4/9/23
Looking for more cities or travel dates in 2023? Click here for our full schedule of Vacation Express exclusive, non-stop flights!
Riviera Maya

All-Inclusive Beachfront Resort in Playa del Carmen
Up to 54% Off Superior Room w/ Balcony
5 Restaurants, 3 Bars & Disco
Kids clubs, Daily Entertainment & More
ALL-INCLUSIVE PACKAGES WITH NON-STOP FLIGHTS FROM BUFFALO
ALL-INCLUSIVE PACKAGES WITH NON-STOP FLIGHTS FROM PITTSBURGH

All-Inclusive Family-Friendly Getaway
Beachfront Property w/ Beautiful Sea Views
Free Upgrade to Premium Room††
Daily Entertainment & Kids Club
ALL-INCLUSIVE PACKAGES WITH NON-STOP FLIGHTS
ALL-INCLUSIVE PACKAGES WITH EXCLUSIVE NON-STOP FLIGHTS
Cancun
ALL-INCLUSIVE PACKAGES WITH EXCLUSIVE NON-STOP FLIGHTS
Cozumel
ALL-INCLUSIVE PACKAGES WITH EXCLUSIVE NON-STOP FLIGHTS - INCLUDES FERRY TRANSFERS TO COZUMEL