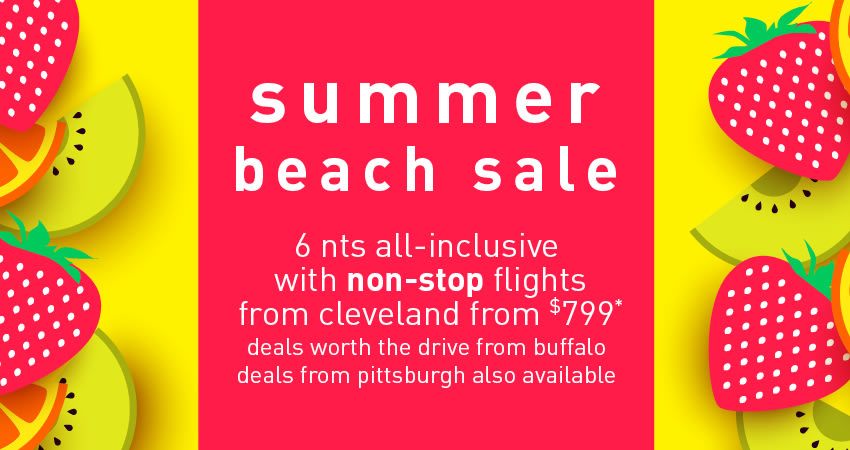 Best Vacation Packages from Buffalo
All-Inclusive Vacation Packages w/ Non-Stop Air
If you like to plan ahead with an early bird deal, look no further! These package deals from Cleveland or Pittsburgh are worth the drive from Buffalo and include non-stop air to the Caribbean and Mexico and unbeatable deals on all-inclusive resorts, which include all meals, unlimited drinks and exciting entertainment at one affordable price. Find our best deals below or pick your ideal dates and shop using our booking box on this page.
CANCUN ▪ RIVIERA MAYA ▪ PUNTA CANA ▪ COZUMEL
Save Even More with Exclusive Non-Stop Flights
Save your spot on our VE exclusive, non-stop flights with a low $225 deposit! Here are some of our top picks or find the best deals from your departure city using the booking box on this page.
CLEVELAND [CLE] - VE Exclusive, Non-Stop Flights Worth the Drive from Buffalo
Cancun ▪ 6-Nights ▪ Sundays ▪ 5/29/22 - 7/31/22
PITTSBURGH [PIT] - VE Exclusive, Non-Stop Flights Worth the Drive from Buffalo
Cancun ▪ 7-Nights ▪ Saturdays ▪ 1/1/22 - 6/4/22
Cancun ▪ 7-Nights ▪ Saturdays ▪ 11/19/22 - 12/24/22
Cancun ▪ 6-Nights ▪ Sundays ▪ 6/12/22 - 7/31/22
Punta Cana ▪ 7-Nights ▪ Saturdays ▪ 1/1/22 - 9/3/22
Punta Cana ▪ 7-Nights ▪ Saturdays ▪ 11/5/22 - 12/24/22
Riviera Maya

ALL-INCLUSIVE PACKAGES WITH EXCLUSIVE NON-STOP FLIGHTS FROM CLEVELAND
ALL-INCLUSIVE PACKAGES WITH EXCLUSIVE NON-STOP FLIGHTS FROM PITTSBURGH
Cozumel

35% Off
Kids Stay, Play & Eat Free†
ALL-INCLUSIVE PACKAGES WITH EXCLUSIVE NON-STOP FLIGHTS FROM CLEVELAND
ALL-INCLUSIVE PACKAGES WITH EXCLUSIVE NON-STOP FLIGHTS FROM PITTSBURGH
Cancun

ALL-INCLUSIVE PACKAGES WITH EXCLUSIVE NON-STOP FLIGHTS FROM CLEVELAND
ALL-INCLUSIVE PACKAGES WITH EXCLUSIVE NON-STOP FLIGHTS FROM PITTSBURGH
Punta Cana

ALL-INCLUSIVE PACKAGES WITH EXCLUSIVE NON-STOP FLIGHTS FROM PITTSBURGH