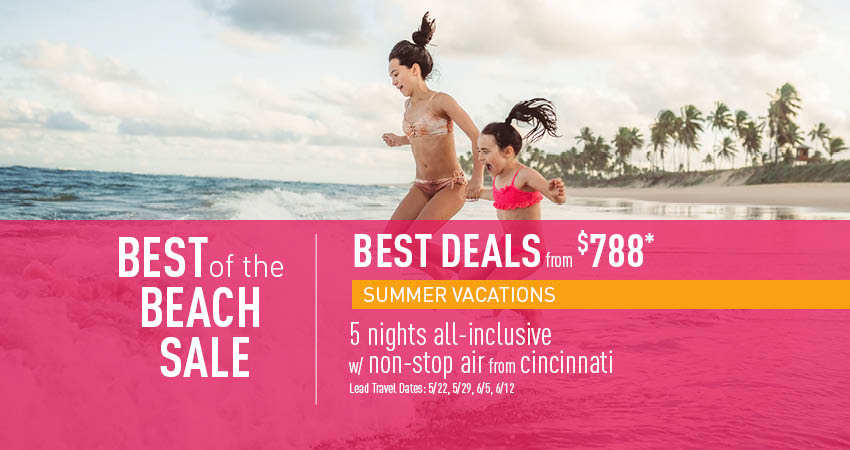 Best Vacation Packages from Cincinnati
All-Inclusive Vacation Packages w/ Non-Stop Air
If you like to plan ahead with an early bird deal, look no further! With non-stop air for 2022 from Cincinnati and all-inclusive resorts, you'll find the perfect package to the Caribbean and Mexico. Find our best deals below or pick your ideal dates and shop using our booking box on this page.
Looking to save on a getaway to the sparkling shores of Mexico? Look no further than these Mexico Extravaganza deals! Whether you prefer a traditional beachfront escape in historic Puerto Vallarta, a contemporary vacation in Cancun's Hotel Zone or something in between, you can find the perfect, all-inclusive resort to experience Mexican extravagance. Click here for a full list of our Mexico Extravaganza deals to start saving.
CANCUN ▪ RIVIERA MAYA ▪ PUNTA CANA ▪ JAMAICA ▪ COZUMEL ▪ LOS CABOS
Save Even More with Exclusive Non-Stop Flights
Save your spot on our VE exclusive, non-stop flights with a low $225 deposit! Here are some of our top picks or find the best deals from your departure city using the booking box on this page.
CINCINNATI [CVG]
Cancun ▪ 6-Nights ▪ Sundays ▪ 1/2/22 - 12/25/22
Cancun ▪ 7-Nights ▪ Saturday ▪ 4/2/22
Cancun ▪ 5-Nights ▪ Sundays ▪ 5/22/22 - 7/31/22
Cancun ▪ 6-Nights ▪ Saturdays ▪ 5/28/22 - 7/30/22
Cancun ▪ 7-Nights ▪ Saturdays ▪ 5/28/22 - 7/30/22
Punta Cana ▪ 7-Nights ▪ Saturdays ▪ 2/12/22 - 8/6/22
Jamaica ▪ 7-Nights ▪ Saturdays ▪ 5/28/22 - 8/6/22
Los Cabos ▪ 6-Nights ▪ Sundays ▪ 5/29/22 - 7/31/22
Riviera Maya

All-Inclusive Resort in Playa Del Carmen
Upgraded Superior Rooms w/ Garden Views
3 A La Carte Rest. & 24-Hour Snack Bar
Fun for All Ages w/ Kids Clubs, Daily Entertainment & More
ALL-INCLUSIVE PACKAGES WITH NON-STOP FLIGHTS

ALL-INCLUSIVE PACKAGES WITH EXCLUSIVE NON-STOP FLIGHTS
Summer Deals
$822*-$997*: May 22, May 29, Jun 5, Jun 11, Jun 12, Jun 18, Jun 19, Jun 25, Jul 2, Jul 3, Jul 9, Jul 10, Jul 16, Jul 17, Jul 23, Jul 24, Jul 30, Jul 31, Aug 7, Aug 14, Aug 21, Aug 28
Los Cabos

Kids Stay, Play & Eat Free†
$200 in Resort Coupons††
ALL-INCLUSIVE PACKAGES WITH EXCLUSIVE NON-STOP FLIGHTS
Punta Cana

ALL-INCLUSIVE PACKAGES WITH EXCLUSIVE NON-STOP FLIGHTS
Cozumel

ALL-INCLUSIVE PACKAGES WITH EXCLUSIVE NON-STOP FLIGHTS - INCLUDES FERRY TRANSFERS TO COZUMEL
Summer Deals
$1139*-$1250*: May 1, May 22, May 29, Jun 11, Jun 12, Jun 19, Jun 26, Jul 2, Jul 3, Jul 9, Jul 10, Jul 16, Jul 17, Jul 23, Jul 24, Jul 30, Jul 31, Aug 7, Aug 14, Aug 21, Aug 28
Cancun

Family-Friendly, All Suites Resort
6 Restaurants + 7 Bars
Beachfront Location in Costa Mujeres
Entertainment for All Ages
ALL-INCLUSIVE PACKAGES WITH NON-STOP FLIGHTS

ALL-INCLUSIVE PACKAGES WITH EXCLUSIVE NON-STOP FLIGHTS
Summer Deals
$1299*-$1418*: May 1, May 8, Jun 18, Jun 25, Jul 9, Jul 16, Jul 23, Jul 24, Jul 30, Jul 31, Aug 7, Aug 14
$1424*-$1723*: May 15, May 22, May 28, May 29, Jun 4, Jun 5, Jun 11, Jun 12, Jun 19, Jun 26, Jul 2, Jul 3, Jul 10, Jul 17
Jamaica

Kids Stay, Play & Eat Free in Winter†
Save 40% in Summer
ALL-INCLUSIVE PACKAGES WITH EXCLUSIVE NON-STOP FLIGHTS