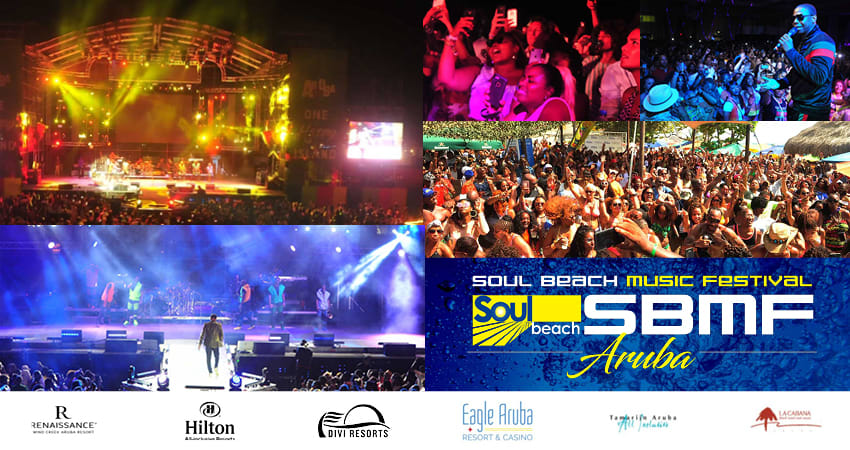 Soul Beach Music Festival
Aruba, May 25-30, 2022
Celebrate the 20th anniversary of the Soul Beach Music Festival on the gorgeous island of Aruba, Memorial Day Weekend, May 25-30, 2022. Voted one of the "Top Five Caribbean Celebrations by USA TODAY" as well as "#1 Caribbean Summer Festival" by Jetsetter Magazine.
Need event information or to purchase tickets? Go to www.soulbeach.com.
Looking for a schedule of events? Go to www.soulbeach.com.
Have more event questions? Click HERE.
Need to book a hotel or flight and hotel? Now you're at the right place. For air and hotel select your preferred departure city and travel dates in the drop-down below. Use the Advanced Options if you have a preferred hotel in Aruba or preferred airline. And best of all, you can add to your package round-trip airport-hotel transfers from $21 per person and value priced travel protection plans from as low as $59 per person.
*Important*
Enter the code "SOULBEACH" in Step 5 of the booking process. This will put you on the Club Soul Beach list to receive special offers, updates and new event promotions for the festival.
**Note: To book hotel-only at Hilton Aruba Caribbean Resort & Casino you must call our contact center.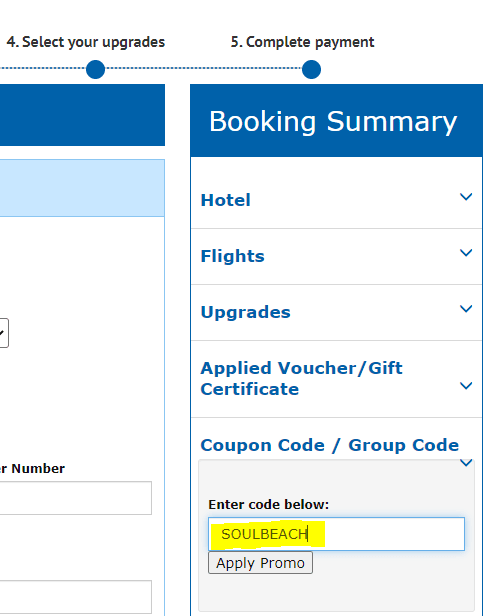 Entry Requirements: Requirements may change prior to traveling and it is your responsibility to ensure that you have the correct documentation to enter Aruba. As of Feb 21, 2022, U.S. travelers, regardless of vaccination status, will have the option to submit a negative Antigen test 24hrs prior OR a negative PCR test 72hrs prior to departure for Aruba. Effective Feb 3, 2022, travelers will have the option to submit a negative test OR travel with digitally verifiable QR code proof of COVID-19 vaccination and booster. A complete vaccination status includes a booster shot administered at least 7 days before travel. Please note, neither the physical or a picture of the CDC card will be accepted, it needs to be in the form of a SMART Health Card. Travelers will not have the option to test upon arrival. As requirements are subject to change, please go to: https://www.aruba.com/us/traveler-health-requirements for the most up-to-date information. All travelers must also purchase Aruba Visitors Insurance within 72 hours of departure via the ED Card form at www.edcardaruba.aw.
---
VACATION PACKAGES WITH AIR FROM ATLANTA [ATL]
VACATION PACKAGES WITH AIR FROM AUSTIN [AUS]
VACATION PACKAGES WITH AIR FROM BALTIMORE [BWI]
VACATION PACKAGES WITH AIR FROM BIRMINGHAM [BHM]
VACATION PACKAGES WITH AIR FROM BOSTON [BOS]
VACATION PACKAGES WITH AIR FROM BUFFALO [BUF]
VACATION PACKAGES WITH AIR FROM CHARLOTTE [CLT]
VACATION PACKAGES WITH AIR FROM CHICAGO [ORD]
VACATION PACKAGES WITH AIR FROM CINCINNATI [CVG]
VACATION PACKAGES WITH AIR FROM CLEVELAND [CLE]
VACATION PACKAGES WITH AIR FROM COLUMBUS [CMH]
VACATION PACKAGES WITH AIR FROM DALLAS [DFW]
VACATION PACKAGES WITH AIR FROM DENVER [DEN]
VACATION PACKAGES WITH AIR FROM DETROIT [DTW]
VACATION PACKAGES WITH AIR FROM FT. LAUDERDALE [FLL]
VACATION PACKAGES WITH AIR FROM HOUSTON [IAH]
VACATION PACKAGES WITH AIR FROM INDIANAPOLIS [IND]
VACATION PACKAGES WITH AIR FROM KANSAS CITY [MCI]
VACATION PACKAGES WITH AIR FROM LAS VEGAS [LAS]
VACATION PACKAGES WITH AIR FROM LITTLE ROCK [LIT]
VACATION PACKAGES WITH AIR FROM LOS ANGELES [LAX]
VACATION PACKAGES WITH AIR FROM MEMPHIS [MEM]
VACATION PACKAGES WITH AIR FROM MIAMI [MIA]
VACATION PACKAGES WITH AIR FROM MILWAUKEE [MKE]
VACATION PACKAGES WITH AIR FROM MINNEAPOLIS [MSP]
VACATION PACKAGES WITH AIR FROM NASHVILLE [BNA]
VACATION PACKAGES WITH AIR FROM NEW ORLEANS [MSY]
VACATION PACKAGES WITH AIR FROM NEW YORK [JFK]
VACATION PACKAGES WITH AIR FROM NEWARK [EWR]
VACATION PACKAGES WITH AIR FROM NORFOLK [ORF]
VACATION PACKAGES WITH AIR FROM ORLANDO [MCO]
VACATION PACKAGES WITH AIR FROM PHILADELPHIA [PHL]
VACATION PACKAGES WITH AIR FROM PHOENIX [PHX]
VACATION PACKAGES WITH AIR FROM PITTSBURGH [PIT]
VACATION PACKAGES WITH AIR FROM PORTLAND [PDX]
VACATION PACKAGES WITH AIR FROM PROVIDENCE [PVD]
VACATION PACKAGES WITH AIR FROM RALEIGH-DURHAM [RDU]
VACATION PACKAGES WITH AIR FROM RICHMOND [RIC]
VACATION PACKAGES WITH AIR FROM SAN DIEGO [SAN]
VACATION PACKAGES WITH AIR FROM SAN FRANCISCO [SFO]
VACATION PACKAGES WITH AIR FROM SALT LAKE CITY [SLC]
VACATION PACKAGES WITH AIR FROM ST. LOUIS [STL]
VACATION PACKAGES WITH AIR FROM TAMPA [TPA]
VACATION PACKAGES WITH AIR FROM TULSA [TUL]
VACATION PACKAGES WITH AIR FROM WASHINGTON D.C. [IAD]
VACATION PACKAGES WITH AIR FROM WASHINGTON D.C. [DCA]
VACATION PACKAGES WITH AIR FROM WINDSOR, ONTARIO [YQG]