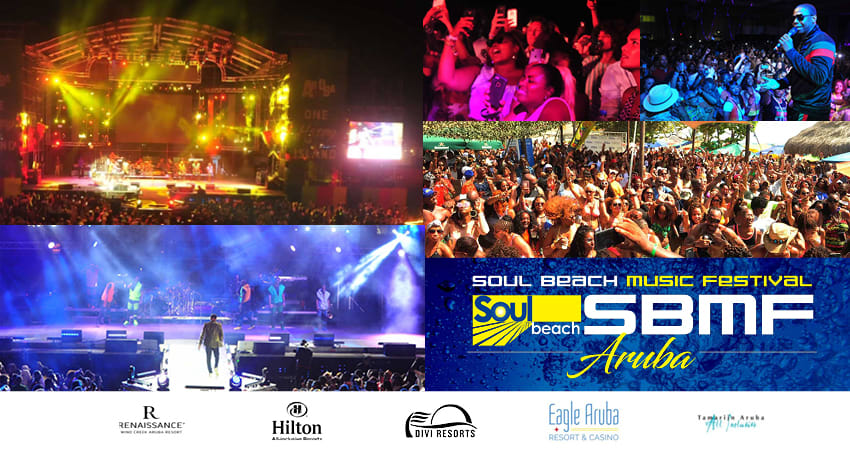 Soul Beach Music Festival
Aruba, May 24-29, 2023
Celebrate the 20th anniversary of the Soul Beach Music Festival on the gorgeous island of Aruba, Memorial Day Weekend, May 24-29, 2023. Voted one of the "Top Five Caribbean Celebrations by USA TODAY" as well as "#1 Caribbean Summer Festival" by Jetsetter Magazine.
Need event information or to purchase tickets? Go to www.soulbeach.net/2023/.
Looking for a schedule of events? Go to www.soulbeach.net/2023/.

Need to book a hotel or flight and hotel? Now you're at the right place. For air and hotel select your preferred departure city and travel dates in the drop-down below. Use the Advanced Options if you have a preferred hotel in Aruba or preferred airline. And best of all, you can add to your package round-trip airport-hotel transfers from $21 per person and value priced travel protection plans from as low as $59 per person.
**Note: To book hotel-only at Hilton Aruba Caribbean Resort & Casino you must call our contact center.
Entry Requirements: Effective March 19, 2022, all travelers are no longer required to present a negative test result or proof of vaccination to enter Aruba. For more information go to https://www.aruba.com/us/traveler-health-requirements Effective July 5th, 2022, travelers will no longer be required to purchase the Aruba Visitors Insurance. All travelers will still be required to complete Aruba's Embarkation/Disembarkation Card before arrival, which is the country's digitized customs and immigration process.
---
VACATION PACKAGES WITH AIR FROM ATLANTA [ATL]
VACATION PACKAGES WITH AIR FROM AUSTIN [AUS]
VACATION PACKAGES WITH AIR FROM BALTIMORE [BWI]
VACATION PACKAGES WITH AIR FROM BIRMINGHAM [BHM]
VACATION PACKAGES WITH AIR FROM BOSTON [BOS]
VACATION PACKAGES WITH AIR FROM BUFFALO [BUF]
VACATION PACKAGES WITH AIR FROM CHARLOTTE [CLT]
VACATION PACKAGES WITH AIR FROM CHICAGO [ORD]
VACATION PACKAGES WITH AIR FROM CINCINNATI [CVG]
VACATION PACKAGES WITH AIR FROM CLEVELAND [CLE]
VACATION PACKAGES WITH AIR FROM COLUMBUS [CMH]
VACATION PACKAGES WITH AIR FROM DALLAS [DFW]
VACATION PACKAGES WITH AIR FROM DENVER [DEN]
VACATION PACKAGES WITH AIR FROM DETROIT [DTW]
VACATION PACKAGES WITH AIR FROM FT. LAUDERDALE [FLL]
VACATION PACKAGES WITH AIR FROM HOUSTON [IAH]
VACATION PACKAGES WITH AIR FROM INDIANAPOLIS [IND]
VACATION PACKAGES WITH AIR FROM KANSAS CITY [MCI]
VACATION PACKAGES WITH AIR FROM LAS VEGAS [LAS]
VACATION PACKAGES WITH AIR FROM LITTLE ROCK [LIT]
VACATION PACKAGES WITH AIR FROM LOS ANGELES [LAX]
VACATION PACKAGES WITH AIR FROM MEMPHIS [MEM]
VACATION PACKAGES WITH AIR FROM MIAMI [MIA]
VACATION PACKAGES WITH AIR FROM MILWAUKEE [MKE]
VACATION PACKAGES WITH AIR FROM MINNEAPOLIS [MSP]
VACATION PACKAGES WITH AIR FROM NASHVILLE [BNA]
VACATION PACKAGES WITH AIR FROM NEW ORLEANS [MSY]
VACATION PACKAGES WITH AIR FROM NEW YORK [JFK]
VACATION PACKAGES WITH AIR FROM NEWARK [EWR]
VACATION PACKAGES WITH AIR FROM NORFOLK [ORF]
VACATION PACKAGES WITH AIR FROM ORLANDO [MCO]
VACATION PACKAGES WITH AIR FROM PHILADELPHIA [PHL]
VACATION PACKAGES WITH AIR FROM PHOENIX [PHX]
VACATION PACKAGES WITH AIR FROM PITTSBURGH [PIT]
VACATION PACKAGES WITH AIR FROM PORTLAND [PDX]
VACATION PACKAGES WITH AIR FROM PROVIDENCE [PVD]
VACATION PACKAGES WITH AIR FROM RALEIGH-DURHAM [RDU]
VACATION PACKAGES WITH AIR FROM RICHMOND [RIC]
VACATION PACKAGES WITH AIR FROM SAN DIEGO [SAN]
VACATION PACKAGES WITH AIR FROM SAN FRANCISCO [SFO]
VACATION PACKAGES WITH AIR FROM SALT LAKE CITY [SLC]
VACATION PACKAGES WITH AIR FROM ST. LOUIS [STL]
VACATION PACKAGES WITH AIR FROM TAMPA [TPA]
VACATION PACKAGES WITH AIR FROM TULSA [TUL]
VACATION PACKAGES WITH AIR FROM WASHINGTON D.C. [IAD]
VACATION PACKAGES WITH AIR FROM WASHINGTON D.C. [DCA]
VACATION PACKAGES WITH AIR FROM WINDSOR, ONTARIO [YQG]