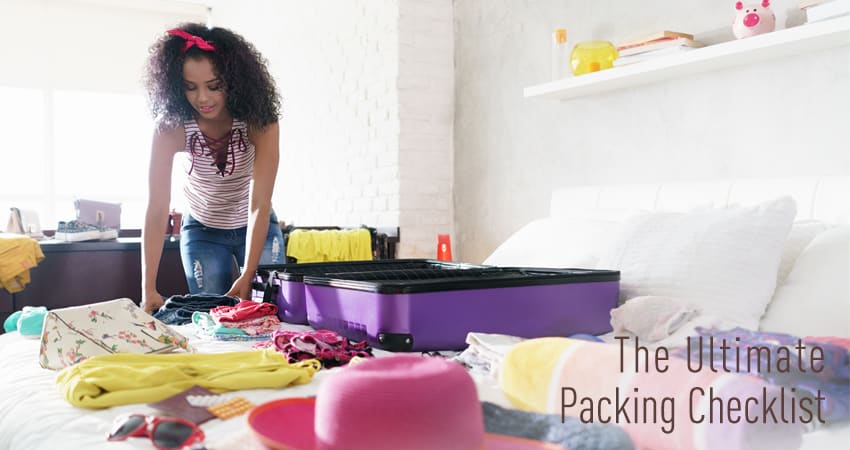 What to Pack
The Ultimate Packing Checklist for All-Inclusive Vacation Travel
We've compiled a list of what we think is the best, most uber-awesomest checklist for what to pack for your all-inclusive vacation. Chances are, you probably won't need to bring everything that's on this list, and that's okay. This is just a guideline of some of the things that we, and many other frequent travelers that we asked, have found to be helpful to have with them and to make their vacation more comfortable.* If you would like, click here to download a .pdf of this stupendous list.
Jump To: Toiletries ▪ Medicine ▪ Electronics ▪ Gear ▪ Documentation ▪ Preparation
Clothing
Planning on what to wear depends on your destination, the season, and what you plan on doing, however, for most of your vacation, light, loose clothing is usually best. The key is to pack smart and not to over-pack. Having multiple outfit options is good, but most people find that they end up mixing and matching the same things multiple days, and therefore some clothing that they brought never gets worn.
Also, keep in mind that some hotels and resorts have dress codes for specific restaurants or public areas, and some tours and excursions have requirements for specific footwear. Many people also pack an outfit in their carry-on luggage just in case their check-in luggage is lost or delayed.
TOILETRIES
It's usually best to bring your toiletries in your checked luggage rather than your carry-on because you'll most likely use a lot more of your liquids and gels than what is allowed by the TSA on a carry-on, and you won't want to worry about purchasing more when you're there.
If you do need to put your toiletries in your carry-on luggage, remember the TSA's 3-1-1 rule: all liquids, gels, aerosols, creams, and pastes must be in a container of 3.4 oz [100 ml] or less, all must be zipped up in a 1-quart sized clear plastic zip-top resealable bag, per each passenger. This includes toothpaste, mouthwash, shampoo, lotion, makeup remover, etc.
Medicine
Unless you have a medication that you would need to take while you're traveling, it's best to pack all your medicines and first aid items in your check-in luggage instead of your carry-on. If you do need to bring these in your carry-on luggage, the TSA's 3-1-1 rule applies to these also—all liquids, gels, aerosols, creams, and pastes must be in a container of 3.4 oz [100 ml] or less, all must be zipped up in a 1-quart sized clear plastic zip-top resealable bag, per each passenger.
It is also a good idea to bring proof that all of your perscription medications do indeed belong to you in order to avoid any complications that may arise when bringing them through Customs and Immigration.
ELECTRONICS
The biggest thing to remember here is to not forget to bring your power cables and wall chargers. A fully charged, portable backup external battery bank is also something you might find that you need, especially if you're away from your hotel shopping around town, or on a tour or excursion, and you find that your camera or phone battery is dying.
GEAR
Whether you're flying on the plane, relaxing in your hotel room, or watching the kids play in the on the beach, here are some things that many people find convenient to have. Some, especially those traveling with children, like to bring chewing gum with them on the plane in order to help their ears pop when the air pressure in the plane cabin changes due to altitude differences.
Also, depending on the amount of shopping you plan on doing, many people bring an empty collapsible suitcase or duffel bag with them so they can have more luggage space for their trip back home. And definitely don't forget to pack a pen on your carry-on.
DOCUMENTATION
Many have found it best to have all your documents printed out on paper just in case you run into technical difficulties with your internet connection or a malfunctioning mobile device when trying to locate and open your digital versions. Also, it may be helpful to make photocopies of important information and phone numbers for the rare occurance that you lose your passport or wallet.
PREPARATION
Escaping from life's pressures and demands is great, but you'll still want to let other's know that you'll be on vacation or unreachable. Some responsibilites back home still have to be taken care of, so it's good to get as much prepared for and taken care of before you leave in order to make your vacation as stress-free and enjoyable as it can be.