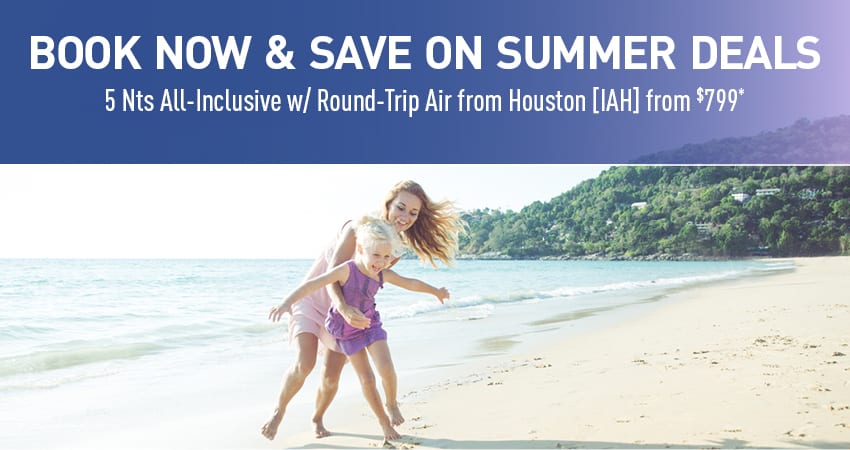 Best Vacation Packages from Houston
All-Inclusive Vacation Packages w/ Round-Trip Air
If you like to plan ahead with an early bird deal, look no further! With round-trip air for summer from Houston and all-inclusive or breakfast plan resorts, you'll find the perfect package to the Caribbean, Mexico and Central America. Find our best deals below or pick your ideal dates and shop using our booking box on this page.
CANCUN ▪ RIVIERA MAYA ▪ PUNTA CANA ▪ JAMAICA ▪ COZUMEL ▪ LOS CABOS ▪ PUERTO VALLARTA ▪ GRENADA ▪ COSTA RICA
Riviera Maya
Great Family Deal – Up to 2 Kids Stay & Eat Free†
ALL-INCLUSIVE PACKAGES WITH ROUND-TRIP FLIGHTS
Cozumel
Amazing Deal for Family Fun!
ALL-INCLUSIVE PACKAGES WITH ROUND-TRIP FLIGHTS
Jamaica
Kids Stay, Play & Eat Free†
ALL-INCLUSIVE PACKAGES WITH ROUND-TRIP FLIGHTS
Puerto Vallarta
Up to 40% Off
Resort Credits††
Kids Stay Play & Eat Free†
ALL-INCLUSIVE PACKAGES WITH ROUND-TRIP FLIGHTS
Los Cabos
Kids Stay, Play & Stay Free†
ALL-INCLUSIVE PACKAGES WITH ROUND-TRIP FLIGHTS
Punta Cana
ALL-INCLUSIVE PACKAGES WITH ROUND-TRIP FLIGHTS
Cancun
$910 in Resort Discount Coupons††
ALL-INCLUSIVE PACKAGES WITH ROUND-TRIP FLIGHTS
Costa Rica
$885 in Resort Discount Coupons††
ALL-INCLUSIVE PACKAGES WITH ROUND-TRIP FLIGHTS
Grenada
BREAKFAST PLAN PACKAGES WITH ROUND-TRIP FLIGHTS