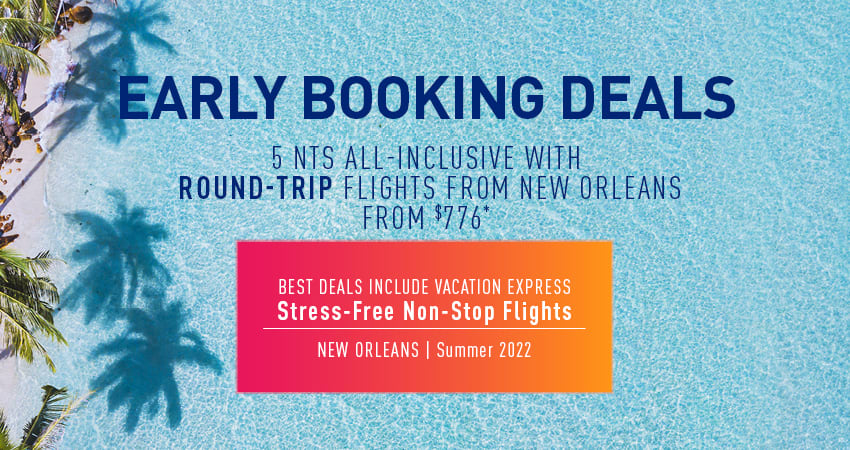 Best Vacation Packages from New Orleans
All-Inclusive Vacation Packages w/ Air
If you like to plan ahead with an early bird deal, look no further! With non-stop or round-trip air for 2022 from New Orleans and all-inclusive resorts, you'll find the perfect package to the Caribbean and Mexico. Find our best deals below or pick your ideal dates and shop using our booking box to the left.
CANCUN ▪ RIVIERA MAYA ▪ JAMAICA ▪ COZUMEL
Save Even More with Exclusive Non-Stop Flights
Save more and spend more time on the beach soaking up the tropical sun by flying our non-stop flights to Cancun! Save your spot now with a low $225 deposit! Find the best deals on non-stop flights by using the booking box to the left!
2022 NEW ORLEANS [MSY]
6-Night Vacation Packages ▪ Departing Sundays ▪ 5/22/22 - 7/24/22
Cozumel

Kids Stay, Play & Eat Free†
40% Off
ALL-INCLUSIVE PACKAGES WITH EXCLUSIVE NON-STOP FLIGHTS
ALL-INCLUSIVE PACKAGES WITH ROUND-TRIP FLIGHTS
Cancun

ALL-INCLUSIVE PACKAGES WITH EXCLUSIVE NON-STOP FLIGHTS
ALL-INCLUSIVE PACKAGES WITH ROUND-TRIP FLIGHTS
Riviera Maya

ALL-INCLUSIVE PACKAGES WITH EXCLUSIVE NON-STOP FLIGHTS
ALL-INCLUSIVE PACKAGES WITH ROUND-TRIP FLIGHTS
Jamaica

ALL-INCLUSIVE PACKAGES WITH ROUND-TRIP FLIGHTS