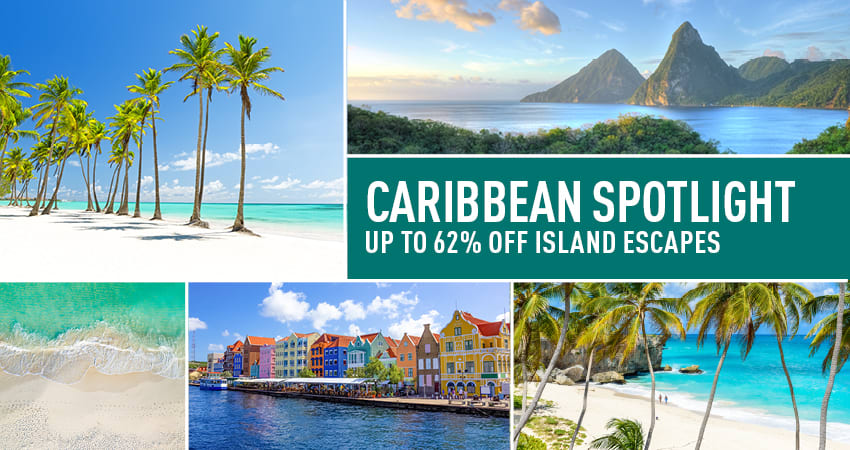 Save on Your Dream Caribbean Getaway
Up to 62% Off, Resort Credit, Kids Stay Free & More!
Escape to the Caribbean for your dream vacation and save! For a limited time, you can receive up to 62% off, kids stay free deals†, resort credit†† and more at some of your favorite tropical resorts! With fun-filled, family-friendly resorts and elegant adults-only resorts to choose from, you'll find the perfect place to enjoy the beautiful landscape and cool island breeze of the Caribbean.
Browse these deals below and use the booking box on this page to select your ideal travel dates. Plus, travel to Jamaica or Punta Cana stress-free by bundling your stay with a Vacation Express exclusive, non-stop flight from one of 4 U.S. cities!
Click here for a full list of offers and hotels participating in our Caribbean deals!
---
BAHAMAS ▪ BARBADOS ▪ GRENADA ▪ JAMAICA ▪ PUNTA CANA ▪ ST. LUCIA ▪ TURKS & CAICOS
Bahamas
Book By: 2/17/23
Travel Window: Now-12/22/23
European Plan
4th Night Free††
Barbados
Book By: 2/10/23
Travel Window: 4/15/23-10/31/23
All-Inclusive
Book 4Nts Get 1 Free†† + Book 5Nts Get 2 Free††
Grenada
Book By: 2/17/23
Travel Window: 3/6/23-10/31/23
All-Inclusive
Reduced Rates + Up to $600 in Resort Coupons††
Jamaica
Book By: 1/31/23
Travel Window: Now-1/2/25
All-Inclusive
Up to 54% Off
Book By: 2/2/23
Travel Window: 2/1/23-12/23/23
All-Inclusive
Up to 40% Off
Book By: 1/31/23
Travel Window: Now-1/1/24
All-Inclusive
Up to 45% Off + $1500 Resort Credit††
Book By: 2/10/23
Travel Window: Now-10/31/23
All-Inclusive
Up to 25% Off
Punta Cana
Book By: 2/17/23
Travel Window: Now-12/22/23
All-Inclusive
Up to 34% Off
Book By: 2/10/23
Travel Window: Now-12/15/23
All-Inclusive
Up to 62% Off
Book By: 2/2/23
Travel Window: 2/1/23-12/23/23
All-Inclusive
Up to 51% Off
Book By: 2/3/23
Travel Window: Now-1/1/24
All-Inclusive
Up to 40% Off + $1500 Resort Credit††
Book By: 2/10/23
Travel Window: Now-12/31/23
All-Inclusive
Reduced Rates
Book By: 2/17/23
Travel Window: Now-12/20/23
European Plan
Reduced Rates + $200 Resort Credit††
St. Lucia
Book By: 3/31/23
Travel Window: Now-12/19/23
Breakfast Plan
4th Night Free†† + $200 Resort Credit††
Book By: 2/17/23
Travel Window: 3/6/23-10/31/23
All-Inclusive
Reduced Rates + Up to $600 in Resort Coupons††
Turks & Caicos
Book By: 2/15/23
Travel Window: 5/1/23-10/31/23
European Plan
Up to 20% Off
---