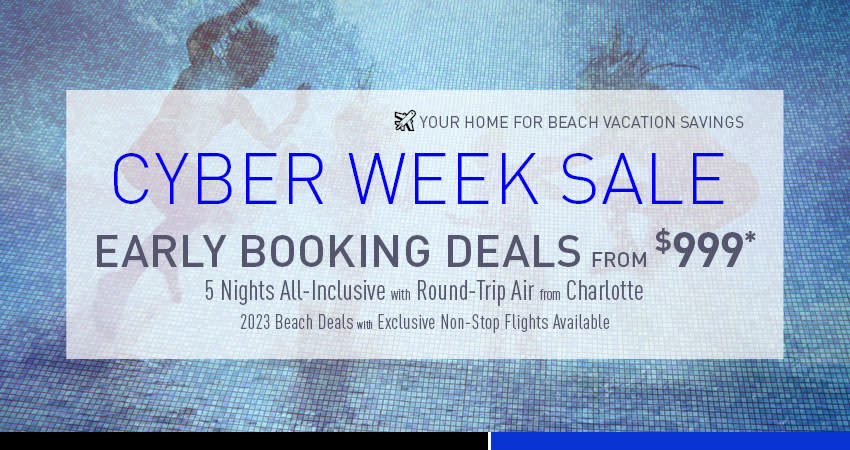 Best Vacation Packages from Charlotte
All-Inclusive Vacation Packages w/ Air
If you like to plan ahead with an early bird deal, look no further! With non-stop or round-trip air from Charlotte and all-inclusive resorts, you'll find the perfect package to the Caribbean and Mexico. Find our best deals below or pick your ideal dates and shop using our booking box on this page.
Looking for more savings? Visit our Cyber Week Vacation Deals page to browse deals at over 100 hotels and resorts. Plus, find more ways to save when you visit our Coupon Codes page.
CANCUN ▪ RIVIERA MAYA ▪ PUNTA CANA ▪ JAMAICA ▪ COZUMEL ▪ LOS CABOS ▪ NASSAU
Save Even More with Exclusive Non-Stop Flights
Save your spot on our VE exclusive, non-stop flights with a low $225 deposit! Here are some of our top picks or find the best deals from your departure city using the booking box on this page.
CHARLOTTE [CLT]
6-Night Vacation Packages ▪ Departing Sundays ▪ 5/28/23-8/6/23
Punta Cana
Up to $600 Resort Credit††
ALL-INCLUSIVE PACKAGES WITH ROUND-TRIP FLIGHTS
Cozumel
Up to 60% Off
1 Kid Stays, Plays & Eats Free†
ALL-INCLUSIVE PACKAGES WITH EXCLUSIVE NON-STOP FLIGHTS - INCLUDES FERRY TRANSFERS TO COZUMEL
ALL-INCLUSIVE PACKAGES WITH ROUND-TRIP FLIGHTS
Jamaica
67% Off
1 Kid Stays, Plays & Eats Free†
ALL-INCLUSIVE PACKAGES WITH ROUND-TRIP FLIGHTS
Los Cabos
ALL-INCLUSIVE PACKAGES WITH ROUND-TRIP FLIGHTS
Cancun
45% Off, New Adults-Only Resort
ALL-INCLUSIVE PACKAGES WITH EXCLUSIVE NON-STOP FLIGHTS
ALL-INCLUSIVE PACKAGES WITH ROUND-TRIP FLIGHTS
Riviera Maya
ALL-INCLUSIVE PACKAGES WITH EXCLUSIVE NON-STOP FLIGHTS
ALL-INCLUSIVE PACKAGES WITH ROUND-TRIP FLIGHTS
Nassau
Adults-Only Getaway
Up to 35% Off
ALL-INCLUSIVE PACKAGES WITH ROUND-TRIP FLIGHTS