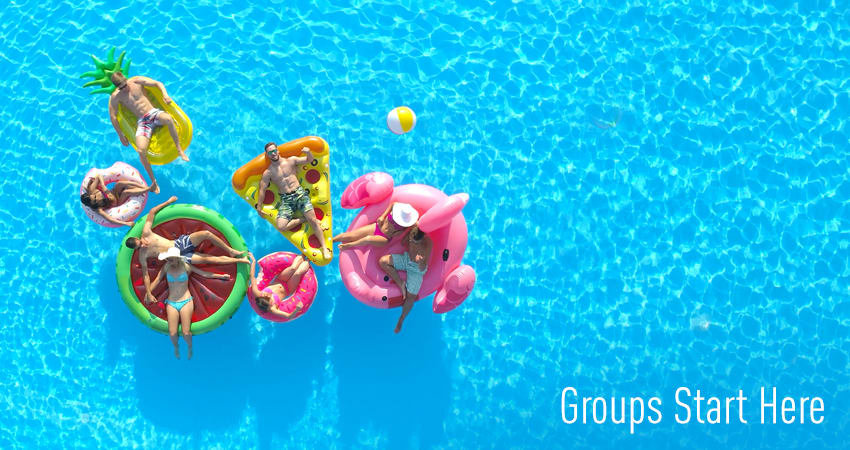 Group Services
Destination Weddings, Family Reunions, Corporate Events & More
Go as a Group!
Group travel maximizes quality time with your friends, family or colleagues, leaving you plenty of moments to relax, engage in activities or fun-filled entertainment and even get down to business. From family reunions to corporate affairs, destination weddings to special milestones, a tropical setting and all-inclusive features make your group getaway one for the books.
We make your travel extra special with:
Flexible Payment Terms
Reduced Cancellation Policies
Added Values and Benefits
Support of Groups Experts
---
Ways to Experience Group Travel:
Express Groups
No Contract Required
Special Booking Code to Link all the Reservations Together
Minimum Number of Rooms Depending on the Hotel Requirement
May Qualify for Group Concessions
Select Resorts Offer Additional Rebates [$]
To Request an Express Group Code, Click Here
Manage your Express Group Bookings and Payments via the Contact Center or Online
For a List of Express Groups Hotels, Click Here ▾
All hotels have a minimum number of rooms required to request an Express Group code. You can find the room requirements here. Once your number of rooms booked and deposited meets that minimum requirement, you can request your Express Group Code here. Your confirmation letter will include your eligible group concessions and/or rebates provided by the hotel. If you have more than one room booked on a reservation, you may list that booking number twice when submitting the booking numbers via the Express Group code request.
For questions related to the program, such as errors when adding the code, concessions, rebates and NexusTours perks, please see our Frequently Asked Questions below or email expressgroups@vacationexpress.com.
Contracted Groups
Contracted Rates
Applicable for 10+ Rooms for Hotel Only [some exceptions apply] and 15+ Adults with Airfare
To Request a Contracted Group, Click Here
Custom link is available — Ask your groups specialist for more details.
For more information about booking your next contracted group, call 1.800.486.9777 and follow the prompts for the Groups Department, email us at groups@vacationexpress.com or check out our FAQs at the bottom of this page.
---
Who is Group Travel For?
Traveling in a group is a rewarding experience for anyone, especially for a special event. Bringing a bunch of friends and family together to celebrate a major milestone, such as an anniversary or birthday, is a fantastic way to enjoy a shared experience you'll look back on for years to come.
Weddings
Destination weddings and vow renewals have never been more popular than they are today. Whether you are tying the knot or are already happily married, Vacation Express offers a range of collections and concepts that promise a truly romantic and unforgettable celebration. For wedding planning details, click here to the begin the process online, call 1.800.739.8876 or email us at weddingplanning@vacationexpress.com.

If you are a travel agent, let our Groups Department coordinate your wedding party's travel arrangements. To be more hands-on, check out our Contracted Group option here. Put your wedding guests in the driver's seat with our Express Groups option. Not sure? Email our Groups Department at groups@vacationexpress.com or call 1.800.486.9777 then select option #2.
Family Reunions
Regardless of the size of your extended family, reconnecting in the tropics is a great way to remove the pressure and stress of such a special occasion.
Corporate Retreats
For conferences, sales incentives and team-building exercises, Vacation Express has a wide selection of properties and all-inclusive packages that promise a productive environment for any business group. It's cost effective, too! The experts at Vacation Express will ensure that everything runs smoothly so that your group can focus on the bottom line!
Group Perks with Nexus Tours
Planning a family reunion, bachelorette party or destination wedding? Vacation Express has paired up with Nexus Tours to add even more to your group travel. Click here to check out exclusive perks for contracted groups with Vacation Express and Nexus Tours. For Express Groups: Please refer to your confirmation letter for applicable perks.


Groups Vacation Protection

Groups Credit Card Authorization Form

Terms & Conditions
---
Frequently Asked Questions
A: The Groups Department's normal business hours are Monday through Friday from 9:00am to 7:00pm ET. We can be reached at 1-800-486-9777 by following the prompts for the Groups Department. If you call outside our normal business hours or if all Group Agents are busy, you may leave a voice mail for follow-up call. You may also e-mail us at groups@vacationexpress.com.
A: You may reach our Contact Center which is currently available daily from 5:00am to Midnight ET. For clients in destination, the phone number for our local reps at Nexus Tours can be found on your travel documents. For questions prior to travel, you may also email groups@vacationexpress.com for Contracted Groups or vesupport@vacationexpress.com for Express Groups. Once travel has commenced, you may email travelsupport@vacationexpress.com.
Express Groups FAQ
Contracted Groups FAQ