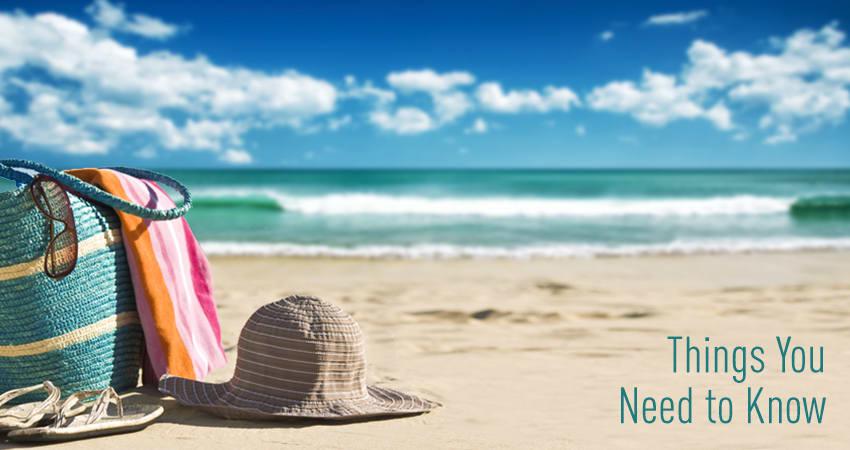 Travel Requirements
Passport & Other General Information
All United States citizens are required to have a valid passport to enter and/or re-enter the United States via air transportation. Vacation Express strongly suggests that you apply for your passport at your earliest possible convenience, so that when you make the decision to take advantage of one of our special vacation deals - you'll be ready to just "click and go"! The following information is provided in an effort to assist you in securing a passport for all members of your family. No one is exempt from the passport requirement - all members of the family, including infants, must have a valid passport to travel to/from the Caribbean, Mexico and Costa Rica as well as other international destinations [travel to U.S. territories, such as the U.S. Virgin Islands, are considered domestic travel and do not require passports for U.S. citizens]. Please allow at least 6 weeks for standard passport processing.
The U.S. Departments of State and Homeland Security announced that after September 30, 2007, all airline passengers traveling by air to any international destination are required to have a valid U.S. passport, regardless of age. Passports are required for re-entry to the United States. Complete text available on the U.S. Department of State's travel website here*.
Current Passport Costs
Standard Process
Children [Under 16]††: $80+$25 execution fee†
Adults [16+]: $110+$25 execution fee†

Allow at least 6 weeks to receive passport
Get It Faster
$60† government "Expedite" service fee [suggested for travel in 2-4 weeks]

The information found on the U.S. Department of State's travel website here* describes how and where to obtain a passport in less than two weeks. Expediting fees will apply.
Get It Fastest
The following are independent passport services that can expedite your passport - Some offer OVERNIGHT service:
Abriggs*
Travisa*
Visa Lady*
General Information & Web Links:
Passports
Information on how to obtain a passport can be found on the U.S. Department of State's travel website here.*

If you need to locate a passport office near you, use the zip code search on the U.S. Department of State's travel website here*.

To find a United States Postal Service [USPS] post office near you, click here* to search. Many post offices offer Passport Application Services, which will be indicated in the search results when you search for nearby locations.

The passport requirement does NOT apply to U.S. citizens traveling to or returning directly from a U.S. territory. U.S. territories include the following: Guam, Puerto Rico, the U.S. Virgin Islands, American Samoa, Swains Island, and the Commonwealth of the Northern Mariana Islands. Citizens will still need government issued photo ID to travel. Beginning October 1, 2020, every U.S. citizen 18 years of age and older will be required to carry a REAL ID for domestic travel. More information on what a REAL ID is, how to obtain one, and answers to other questions regarding REAL IDs can be found here and here.*
Parents & Minors
If a child under the age of 18 is traveling with only one parent/guardian, or with someone who is not a parent or legal guardian, U.S. Customs and Border Protection [CBP] requires that the accompanying adult have notorized documentation from the non-traveling parent[s] stating something along the lines of:
"I, [name], acknowledge that my wife/husband/etc., [name], is traveling out of the country to [destination] with my son/daughter, [name/s], from [date] to [date]. He/She/They has/have my/our permission to do so."
If there is no second parent with legal custody of the child [e.g., the second parent is deceased, one parent has sole custody, etc.], relevant paperwork such as a court decision, birth certificate naming only one parent, death certificate, "sole custody" or "Father Unknown" documents, etc., would need to be presented.
At time of printing, Dominican Republic law requires that children under 18 on the day of departure traveling with an adult or guardian other than their parent, present a written, notarized authorization letter from the parent[s] giving consent for the minor to leave the country. In addition, a photo ID is required for anyone 14 years of age or older.
Non-U.S. Citizens
Non U.S. citizens, to include permanent resident card [U.S. Green Card] holders, must check with the consulate of their intended destination, U.S. authorities and the air carrier[s] to obtain information on required documentation for entry to the destination and re-entry to the U.S. Non U.S. citizens must consult with the appropriate consulate to determine if any visas are needed. Failure to comply with these requirements will result in denied boarding.
Subject to Change:
The above information regarding documentation is subject to change. It is the participant's responsibility to obtain current requirements needed for your carrier and destination. Passengers denied boarding, entry or re-entry due to lack of proper documentation will not be entitled to a refund.