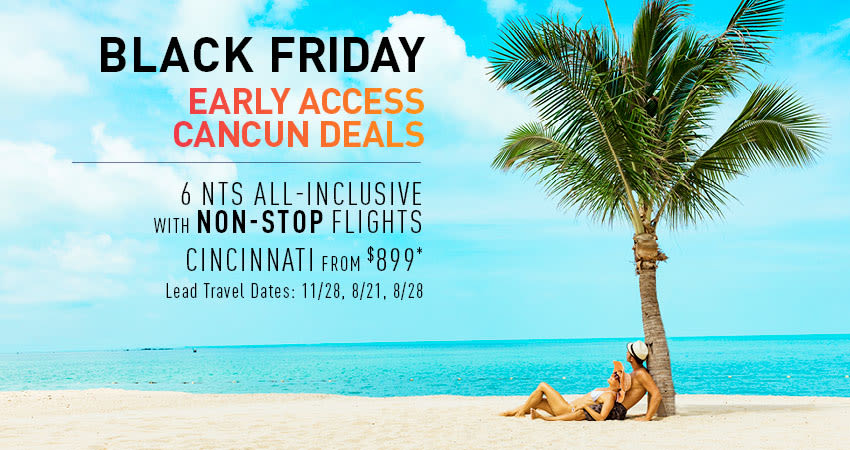 Cincinnati to Cancun Deals
All-Inclusive Vacation Packages w/ Non-Stop Air
Cincinnati, book your all-inclusive Cancun trip with Vacation Express today! These package deals include non-stop air for a getaway from Cincinnati to Cancun, accommodations, hotel taxes and local representative. We offer affordable vacation packages and unbeatable deals on all-inclusive resorts, which include all meals, unlimited drinks and exciting entertainment at one great price.
Black Friday deals are coming your way! Check out the amazing deals below, click here for exclusive coupon codes or here for a list of Black Friday hotel savings and added values. Don't wait, start saving on your next tropical vacation today.
Save Even More with Exclusive Non-Stop Flights
Save more and spend more time on the beach soaking up the tropical sun by flying our non-stop flights to Cancun! Save your spot now with a low $225 deposit!
2021 CINCINNATI [CVG]
6-Night Vacation Packages ▪ Departing Sundays ▪ Now - 12/26/21
2022 CINCINNATI [CVG]
6-Night Vacation Packages ▪ Departing Sundays ▪ 1/2/22 - 12/25/22
7-Night Vacation Packages ▪ Departing Saturday ▪ 4/2/22
5-Night Vacation Packages ▪ Departing Sundays ▪ 5/22/22 - 7/31/22
6-Night Vacation Packages ▪ Departing Saturdays ▪ 5/28/22 - 7/30/22
7-Night Vacation Packages ▪ Departing Saturdays ▪ 5/28/22 - 7/30/22

Up to 54% Off in 2021
Up to 66% Off in 2022
Kids Stay, Play & Eat Free†
ALL-INCLUSIVE PACKAGES WITH EXCLUSIVE NON-STOP FLIGHTS
2022 Deals
$945*-$1122*: May 1, May 8, May 15, May 22, May 28, May 29, Jun 4, Jun 11, Jun 18, Jun 25, Jul 9, Jul 16, Jul 23, Jul 30, Aug 14

Resort Credit in 2021††
Up to 30% Off in 2022
ALL-INCLUSIVE PACKAGES WITH EXCLUSIVE NON-STOP FLIGHTS
2022 Deals
$1327*-$1381*: Jun 12, Jun 19, Jun 25, Jun 26, Jul 2, Jul 3, Jul 9, Jul 10, Jul 16, Jul 17, Jul 23, Jul 24, Jul 30, Jul 31, Aug 7

Up to 76% Off in 2021
$300 Resort Credit††
ALL-INCLUSIVE PACKAGES WITH EXCLUSIVE NON-STOP FLIGHTS
2022 Deals
$1542*-$1739*: May 22, May 28, May 29, Jun 5, Jun 12, Jun 19, Jun 26, Jul 2, Jul 3, Jul 9, Jul 10, Jul 16, Jul 17, Jul 23, Jul 24, Jul 30, Jul 31, Aug 7

Up to 35% Off
$1500 Resort Credit††
ALL-INCLUSIVE PACKAGES WITH EXCLUSIVE NON-STOP FLIGHTS

Up to 50% Off in 2021
Up to 40% Off in 2022
ALL-INCLUSIVE PACKAGES WITH EXCLUSIVE NON-STOP FLIGHTS