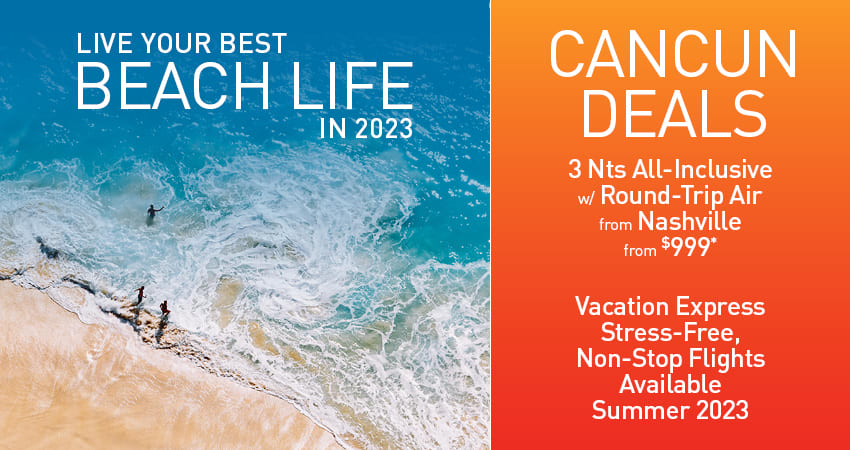 Nashville to Cancun Deals
All-Inclusive Vacation Packages w/ Air
Nashville, book your all-inclusive Cancun trip with Vacation Express today! These package deals include non-stop or round-trip air for a getaway from Nashville to Cancun, accommodations, hotel taxes and local representative. We offer affordable vacation packages and unbeatable deals on all-inclusive resorts, which include all meals, unlimited drinks and exciting entertainment at one great price.
Save Even More with Exclusive Non-Stop Flights
Save your spot on our VE exclusive, non-stop flights with a low $225 deposit! Here are some of our top picks or find the best deals from your departure city using the booking box on this page.
NASHVILLE [BNA]
6-Night Vacation Packages ▪ Departing Sundays ▪ 5/21/23-7/30/23

Save up to 35% at a Beachfront All Suites Property
1 Kid Stays, Plays & Eats Free†
Kids & Teen Club + Entertainment for all Ages
6 Restaurants + 7 Bars Incl. 2 Swim-Up Bars
ALL-INCLUSIVE PACKAGES WITH NON-STOP FLIGHTS
ALL-INCLUSIVE PACKAGES WITH EXCLUSIVE NON-STOP FLIGHTS
ALL-INCLUSIVE PACKAGES WITH ROUND-TRIP FLIGHTS
Family Fun in The Heart of Cancun's Hotel Zone!
ALL-INCLUSIVE PACKAGES WITH EXCLUSIVE NON-STOP FLIGHTS
ALL-INCLUSIVE PACKAGES WITH ROUND-TRIP FLIGHTS
Up to 70% Off
Kids Stay, Play & Eat Free†
ALL-INCLUSIVE PACKAGES WITH EXCLUSIVE NON-STOP FLIGHTS
ALL-INCLUSIVE PACKAGES WITH ROUND-TRIP FLIGHTS
Up to 70% Off
Adults-Only Getaway
ALL-INCLUSIVE PACKAGES WITH EXCLUSIVE NON-STOP FLIGHTS
ALL-INCLUSIVE PACKAGES WITH ROUND-TRIP FLIGHTS