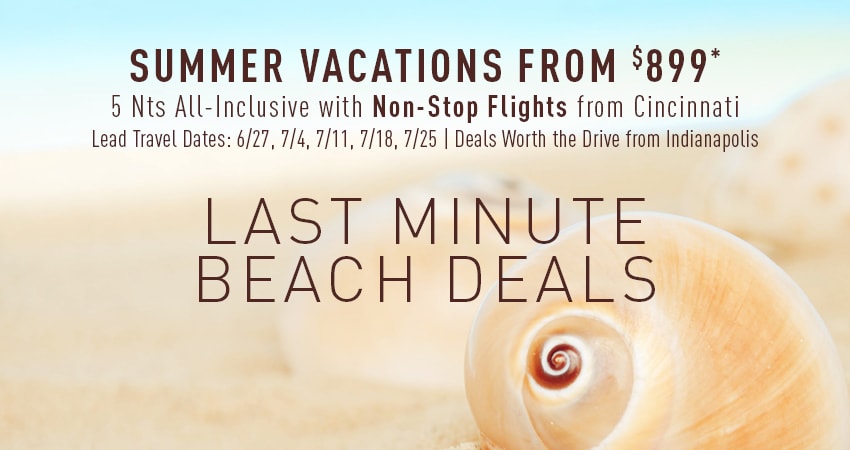 Last Minute Deals From Indianapolis
All-Inclusive Vacation Packages w/ Non-Stop Air
Enjoy a vacation on the beach with a last minute getaway from Vacation Express! These last minute deals from Cincinnati are worth the drive from Indianapolis, so you can easily book your non-stop air to the Caribbean and Mexico from Cincinnati, accommodations, local representative and hotel taxes for one discounted price. Book an all-inclusive hotel deal and enjoy your meals, unlimited drinks and exciting activities at no extra cost. Find our best deals below or pick your ideal dates and shop using our booking box to the left.
Traveling within three days? Our Travel Advisors can make it happen! Call 1-800-309-4717 to book.
CANCUN ▪ RIVIERA MAYA ▪ PUNTA CANA ▪ COZUMEL ▪ LOS CABOS
Save Even More with Exclusive Non-Stop Flights
Save more and spend more time on the beach soaking up the tropical sun by flying our non-stop flights to Cancun, Los Cabos and Punta Cana! Save your spot now with a low $225 deposit! Visit the tabs at the top of this page to view even more resort deals and travel dates!
CINCINNATI [CVG]
Cancun: 5-Nights ▪ Sundays ▪ 5/23/21 - 8/1/21
Cancun: 6-Nights ▪ Sundays ▪ 2/14/21 - 12/26/21
Cancun: 6-Nights ▪ Saturdays ▪ 5/29/21 - 7/31/21
Cancun: 7-Nights ▪ Saturdays ▪ 5/29/21 - 7/31/21

Los Cabos: 6-Nights ▪ Sundays ▪ 5/30/21 - 8/1/21

Punta Cana: 7-Nights ▪ Saturdays ▪ 3/6/21 - 7/31/21
Riviera Maya

Beachfront Gourmet Inclusive® for All Ages
Up to 68% Off + $600 in Resort Credits††
Spacious Luxury Suite w/24 Hour Rm. Serv.
Azulitos Kids Club & Game Room for Teens
ALL-INCLUSIVE PACKAGES WITH NON-STOP FLIGHTS

30% Savings
24 Hour All-Inclusive Fun
ALL-INCLUSIVE PACKAGES WITH EXCLUSIVE NON-STOP FLIGHTS FROM CINCINNATI
Cozumel

Kids Stay, Play & Eat Free†
29% Off
ALL-INCLUSIVE PACKAGES WITH EXCLUSIVE NON-STOP FLIGHTS FROM CINCINNATI - INCLUDES FERRY TRANSFERS TO COZUMEL
Cancun

Up to 75% Off
$300 Resort Credit††
Adults-Only Getaway
ALL-INCLUSIVE PACKAGES WITH EXCLUSIVE NON-STOP FLIGHTS FROM CINCINNATI
Los Cabos

Up to 81% Off All-Inclusive, Beachfront Resort
Up to 2 Kids Stay, Play & Eat Free†
Upgrade to Jr. Suite Ocean View Included
Family Pools & Adults-Only Pool w/ Swim-Up Bar

ALL-INCLUSIVE PACKAGES WITH EXCLUSIVE NON-STOP FLIGHTS FROM CINCINNATI
Punta Cana

Up to 61% Off
$200 in Resort Coupons††
Kids Stay, Play & Eat Free†
ALL-INCLUSIVE PACKAGES WITH EXCLUSIVE NON-STOP FLIGHTS FROM CINCINNATI