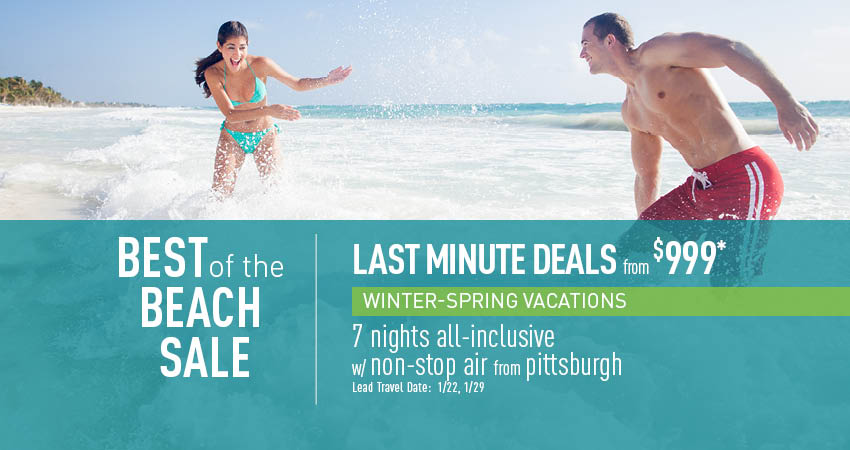 Last Minute Deals From Pittsburgh
All-Inclusive Vacation Packages w/ Non-Stop Air
Enjoy a vacation on the beach with a last minute getaway from Vacation Express! Find amazing last minute deals from Pittsburgh to your favorite destinations in the Caribbean and Mexico. With a last minute deal, you can easily book your non-stop air from Pittsburgh, accommodations, local representative and hotel taxes for one discounted price. Book an all-inclusive hotel deal and enjoy your meals, unlimited drinks and exciting activities at no extra cost.
Looking to save on a getaway to the sparkling shores of Mexico? Look no further than these Mexico Extravaganza deals! Whether you prefer a traditional beachfront escape in historic Puerto Vallarta, a contemporary vacation in Cancun's Hotel Zone or something in between, you can find the perfect, all-inclusive resort to experience Mexican extravagance. Click here for a full list of our Mexico Extravaganza deals to start saving.
CANCUN ▪ RIVIERA MAYA ▪ PUNTA CANA ▪ COZUMEL
Save Even More with Exclusive Non-Stop Flights
Save your spot on our VE exclusive, non-stop flights with a low $225 deposit! Here are some of our top picks or find the best deals from your departure city using the booking box on this page.
2022 PITTSBURGH [PIT]
7-Night Vacation Packages ▪ Departing Saturdays ▪ 1/1/22 - 8/6/22
7-Night Vacation Packages ▪ Departing Saturdays ▪ 11/19/22 - 12/24/22
Riviera Maya

All-Inclusive Resort in Playa Del Carmen
Upgraded Superior Rooms w/ Garden Views
3 A La Carte Rest. & 24-Hour Snack Bar
Fun for All Ages w/ Kids Clubs, Daily Entertainment & More
ALL-INCLUSIVE PACKAGES WITH NON-STOP FLIGHTS

ALL-INCLUSIVE PACKAGES WITH EXCLUSIVE NON-STOP FLIGHTS
Cancun

ALL-INCLUSIVE PACKAGES WITH EXCLUSIVE NON-STOP FLIGHTS
Punta Cana

ALL-INCLUSIVE PACKAGES WITH EXCLUSIVE NON-STOP FLIGHTS
Cozumel

ALL-INCLUSIVE PACKAGES WITH EXCLUSIVE NON-STOP FLIGHTS - INCLUDES FERRY TRANSFERS TO COZUMEL