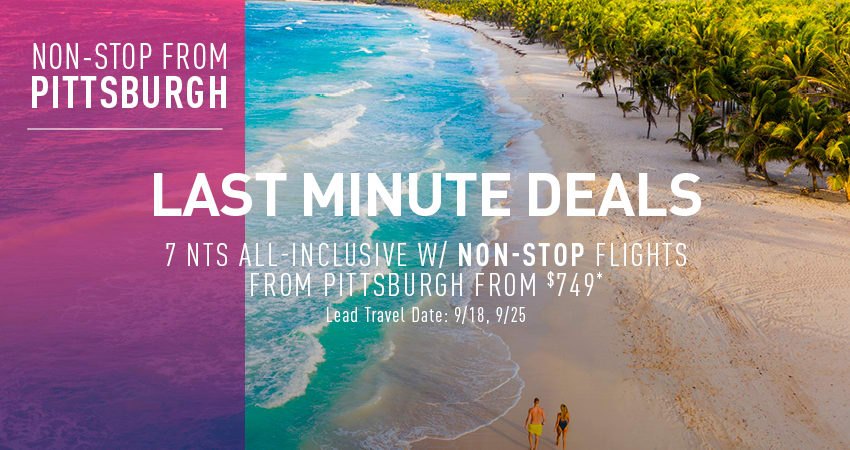 Last Minute Deals From Pittsburgh
All-Inclusive Vacation Packages w/ Non-Stop Air
Enjoy a vacation on the beach with a last minute getaway from Vacation Express! Find amazing last minute deals from Pittsburgh to your favorite destinations in the Caribbean and Mexico. With a last minute deal, you can easily book your non-stop air from Pittsburgh, accommodations, local representative and hotel taxes for one discounted price. Book an all-inclusive hotel deal and enjoy your meals, unlimited drinks and exciting activities at no extra cost.
Traveling within three days? Our Travel Advisors can make it happen! Call 1-800-309-4717 to book.
CANCUN ▪ RIVIERA MAYA ▪ PUNTA CANA ▪ COZUMEL
Save Even More with Exclusive Non-Stop Flights
Save more and spend more time on the beach soaking up the tropical sun by flying our non-stop flights to Cancun and Punta Cana! Save your spot now with a low $225 deposit! Find the best deals on non-stop flights by using the booking box to the left!
2021 PITTSBURGH [PIT]
Cancun ▪ 7-Nights ▪ Saturdays ▪ Now - 12/25/21
Punta Cana ▪ 7-Nights ▪ Saturdays ▪ Now - 12/25/21
Punta Cana

Luxury Jr Suite Swim Out w/ 24-Hr Rm Service
Kids & Teens Clubs + Flowrider® Wave Machine††
$600 Resort Credit††
1 Comp. Hydrotherapy Session††
ALL-INCLUSIVE PACKAGES WITH NON-STOP FLIGHTS

ALL-INCLUSIVE PACKAGES WITH EXCLUSIVE NON-STOP FLIGHTS
Cancun

All-Inclusive, Beachfront Resort for All Ages
Deluxe Ocean View Suite w/Breathtaking Views
24-Hour Room Service + 4 Restaurants & Bars
Refreshing Swimming Pool w/Swim-Up Bar
ALL-INCLUSIVE PACKAGES WITH EXCLUSIVE NON-STOP FLIGHTS

ALL-INCLUSIVE PACKAGES WITH EXCLUSIVE NON-STOP FLIGHTS
Riviera Maya

ALL-INCLUSIVE PACKAGES WITH EXCLUSIVE NON-STOP FLIGHTS
Cozumel

Kids & Teens Stay, Play & Eat Free†
ALL-INCLUSIVE PACKAGES WITH EXCLUSIVE NON-STOP FLIGHTS - INCLUDES FERRY TRANSFERS TO COZUMEL