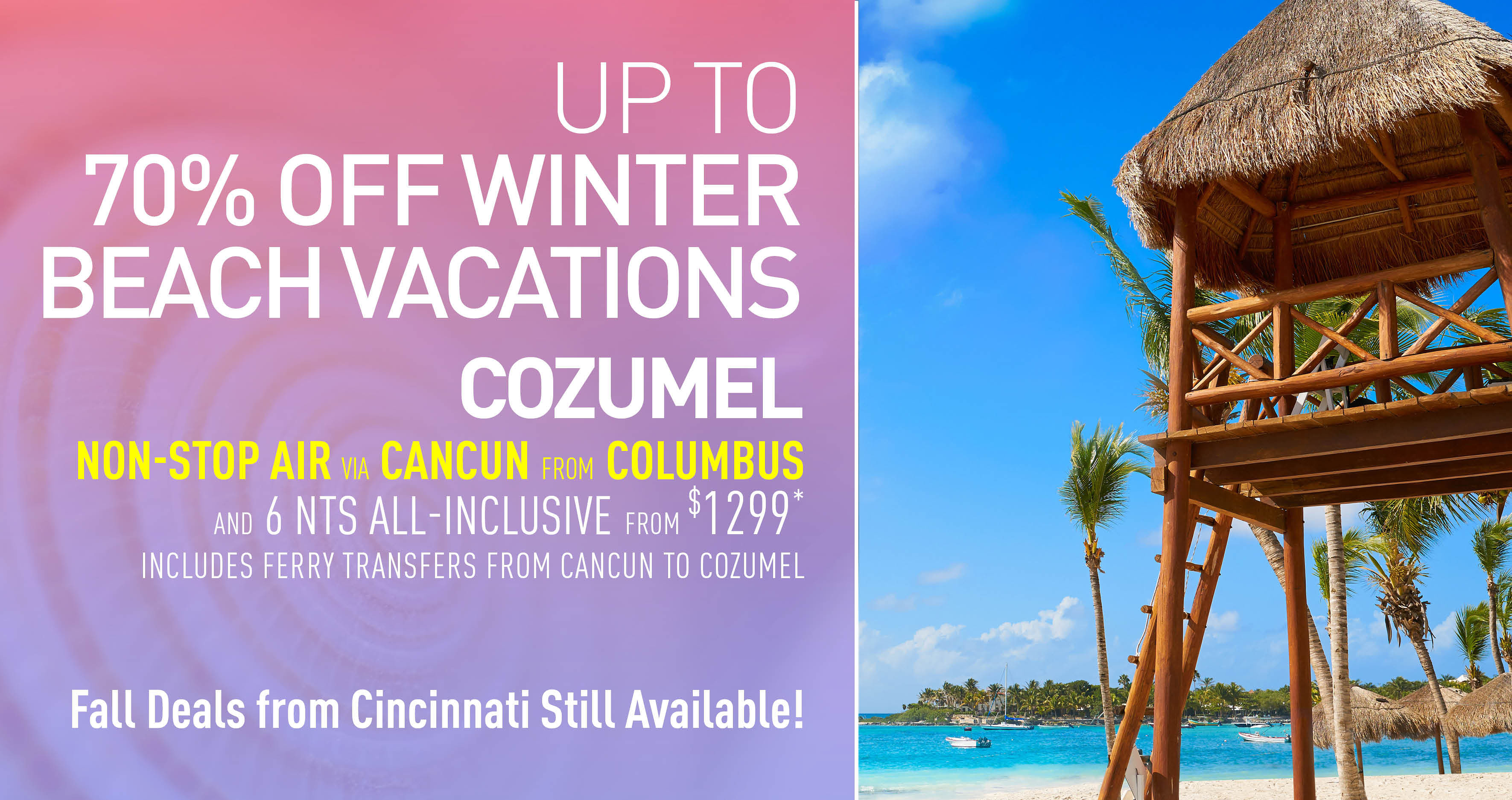 Columbus to Cozumel Deals
All-Inclusive Vacation Packages w/ Non-Stop Air via Cancun
Columbus, book your all-inclusive Cozumel trip with Vacation Express today! These package deals include non-stop air for a getaway from Columbus or Cincinnati to Cancun that includes a ferry transfer to Cozumel, accommodations, hotel taxes and local representative. We offer affordable vacation packages and unbeatable deals on all-inclusive resorts, which include all meals, unlimited drinks and exciting entertainment at one great price.
Save Even More with VE Exclusive, Non-Stop Flights from Columbus and Cincinnati!
Save your spot on our VE exclusive, non-stop flights with a low $225 deposit! Here are some of our top picks or find the best deals from your departure city using the booking box on this page.
2024 COLUMBUS [CMH]
6-Night Vacation Packages ▪ Departing Sundays ▪ 2/18/24 - 7/28/24
2023 CINCINNATI [CVG]
6-Night Vacation Packages ▪ Departing Sundays ▪ Now - 12/31/23
2024 CINCINNATI [CVG]
6-Night Vacation Packages ▪ Departing Sundays ▪ 1/7/24 - 12/29/24
5-Night Vacation Packages ▪ Departing Sundays ▪ 5/26/24 - 7/28/24
6-Night Vacation Packages ▪ Departing Saturdays ▪ 5/25/24 - 7/27/24
7-Night Vacation Packages ▪ Departing Saturdays ▪ 5/25/24 - 8/3/24

ALL-INCLUSIVE PACKAGES WITH EXCLUSIVE NON-STOP FLIGHTS FROM COLUMBUS - INCLUDES FERRY TRANSFERS TO COZUMEL
2024 Winter/Spring Deals
2024 Summer Deals
ALL-INCLUSIVE PACKAGES WITH EXCLUSIVE NON-STOP FLIGHTS FROM CINCINNATI - INCLUDES FERRY TRANSFERS TO COZUMEL
2023 Fall/Winter Deals
2024 Winter/Spring Deals
2024 Summer Deals
$1572*-$1647*: May 19, May 25, May 26, Jun 1, Jun 2, Jun 8, Jun 9, Jun 15, Jun 16, Jun 22, Jun 23, Jun 29, Jun 30, Jul 6, Jul 7, Jul 13, Jul 14, Jul 20, Jul 21, Jul 27, Jul 28, Aug 4, Aug 11, Aug 18, Aug 25
Amazing Deal for Family Fun
ALL-INCLUSIVE PACKAGES WITH EXCLUSIVE NON-STOP FLIGHTS FROM COLUMBUS - INCLUDES FERRY TRANSFERS TO COZUMEL - INCLUDES FERRY TRANSFERS TO COZUMEL
2024 Winter/Spring Deals
2024 Summer Deals
ALL-INCLUSIVE PACKAGES WITH EXCLUSIVE NON-STOP FLIGHTS FROM CINCINNATI - INCLUDES FERRY TRANSFERS TO COZUMEL - INCLUDES FERRY TRANSFERS TO COZUMEL
2023 Fall/Winter Deals
2024 Winter/Spring Deals
2024 Summer Deals
$1399*-$1452*: May 19, May 25, May 26, Jun 1, Jun 2, Jun 8, Jun 9, Jun 15, Jun 16, Jun 22, Jun 23, Jun 29, Jun 30, Jul 6, Jul 7, Jul 13, Jul 14, Jul 20, Jul 21, Jul 27, Jul 28, Aug 4, Aug 11, Aug 18, Aug 25
ALL-INCLUSIVE PACKAGES WITH EXCLUSIVE NON-STOP FLIGHTS FROM COLUMBUS - INCLUDES FERRY TRANSFERS TO COZUMEL
2024 Winter/Spring Deals
2024 Summer Deals
ALL-INCLUSIVE PACKAGES WITH EXCLUSIVE NON-STOP FLIGHTS FROM CINCINNATI - INCLUDES FERRY TRANSFERS TO COZUMEL
2023 Fall/Winter Deals
2024 Winter/Spring Deals
2024 Summer Deals
$1404*-$1486*: May 19, May 25, May 26, Jun 1, Jun 2, Jun 8, Jun 9, Jun 15, Jun 16, Jun 22, Jun 23, Jun 29, Jun 30, Jul 6, Jul 7, Jul 13, Jul 14, Jul 20, Jul 21, Jul 27, Jul 28, Aug 4, Aug 11, Aug 18, Aug 25