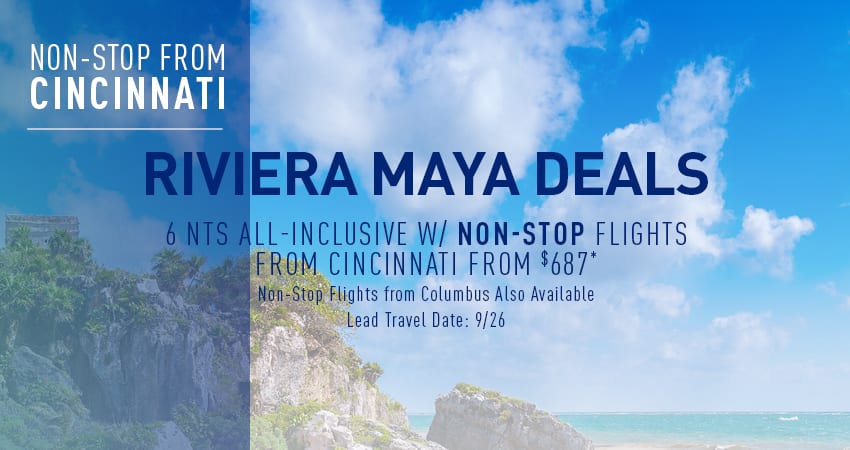 Columbus to Riviera Maya Deals
All-Inclusive Vacation Packages w/ Non-Stop Air
Columbus, book your all-inclusive Riviera Maya trip with Vacation Express today! These package deals from Cincinnati or Columbus include non-stop air to Riviera Maya, accommodations, hotel taxes and local representative. We offer affordable vacation packages and unbeatable deals on all-inclusive resorts, which include all meals, unlimited drinks and exciting entertainment at one great price.
Save Even More with Exclusive Non-Stop Flights
Save more and spend more time on the beach soaking up the tropical sun by flying our non-stop flights to Cancun! Save your spot now with a low $225 deposit!
2021 CINCINNATI [CVG]
6-Night Vacation Packages ▪ Departing Sundays ▪ Now - 12/26/21
2022 CINCINNATI [CVG]
6-Night Vacation Packages ▪ Departing Sundays ▪ 1/2/22 - 12/25/22
5-Night Vacation Packages ▪ Departing Sundays ▪ 5/22/22 - 7/31/22
6-Night Vacation Packages ▪ Departing Saturdays ▪ 5/28/22 - 7/30/22
7-Night Vacation Packages ▪ Departing Saturdays ▪ 5/28/22 - 7/30/22
2022 COLUMBUS [CMH]
6-Night Vacation Packages ▪ Departing Sundays ▪ 3/6/22 - 4/3/22
6-Night Vacation Packages ▪ Departing Sundays ▪ 5/22/22 - 7/31/22

ALL-INCLUSIVE PACKAGES WITH EXCLUSIVE NON-STOP FLIGHTS FROM CINCINNATI
ALL-INCLUSIVE PACKAGES WITH EXCLUSIVE NON-STOP FLIGHTS FROM COLUMBUS

30% Off in 2021
Up to $600 Resort Credit in 2021††
35% Off in 2022
ALL-INCLUSIVE PACKAGES WITH EXCLUSIVE NON-STOP FLIGHTS FROM CINCINNATI
ALL-INCLUSIVE PACKAGES WITH EXCLUSIVE NON-STOP FLIGHTS FROM COLUMBUS

Up to 50% Off
$200 in Resort Coupons††
ALL-INCLUSIVE PACKAGES WITH EXCLUSIVE NON-STOP FLIGHTS FROM CINCINNATI
12/ Deals
2021 Deals
2022 Deals
ALL-INCLUSIVE PACKAGES WITH EXCLUSIVE NON-STOP FLIGHTS FROM COLUMBUS

Up to 65% Off
$250 Resort Credit††
ALL-INCLUSIVE PACKAGES WITH EXCLUSIVE NON-STOP FLIGHTS FROM CINCINNATI
ALL-INCLUSIVE PACKAGES WITH EXCLUSIVE NON-STOP FLIGHTS FROM COLUMBUS