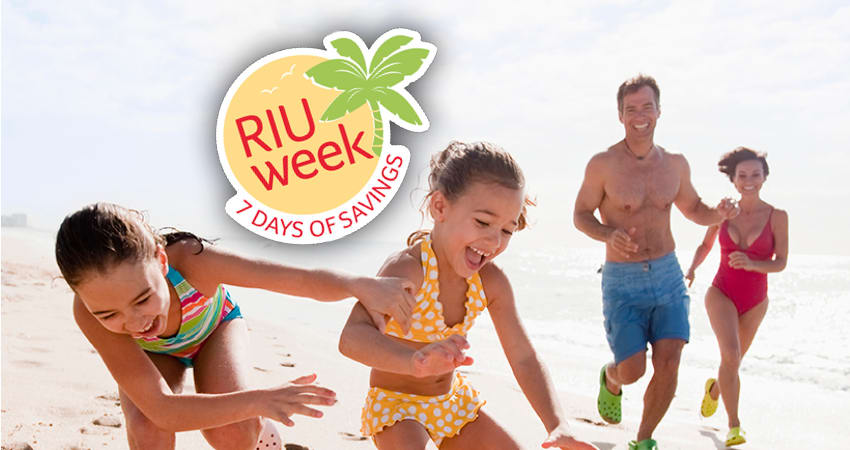 Weeklong Savings at RIU Hotels & Resorts
Up to 63% Off, Free Room Upgrades†† & More!
This deal has expired, but this hotel and many others are on sale. Enter your city and choice of dates in our easy to use booking form on this page to find more great deals from Vacation Express.
---
VACATION PACKAGES WITH AIR FROM ATLANTA [ATL]
VACATION PACKAGES WITH AIR FROM AUSTIN [AUS]
VACATION PACKAGES WITH AIR FROM BALTIMORE [BWI]
VACATION PACKAGES WITH AIR FROM BIRMINGHAM [BHM]
VACATION PACKAGES WITH AIR FROM BOSTON [BOS]
VACATION PACKAGES WITH AIR FROM BUFFALO [BUF]
VACATION PACKAGES WITH AIR FROM CHARLOTTE [CLT]
VACATION PACKAGES WITH AIR FROM CHICAGO [ORD]
VACATION PACKAGES WITH AIR FROM CINCINNATI [CVG]
VACATION PACKAGES WITH AIR FROM CLEVELAND [CLE]
VACATION PACKAGES WITH AIR FROM COLUMBUS [CMH]
VACATION PACKAGES WITH AIR FROM DALLAS [DFW]
VACATION PACKAGES WITH AIR FROM DENVER [DEN]
VACATION PACKAGES WITH AIR FROM DETROIT [DTW]
VACATION PACKAGES WITH AIR FROM FT. LAUDERDALE [FLL]
VACATION PACKAGES WITH AIR FROM HOUSTON [IAH]
VACATION PACKAGES WITH AIR FROM INDIANAPOLIS [IND]
VACATION PACKAGES WITH AIR FROM KANSAS CITY [MCI]
VACATION PACKAGES WITH AIR FROM LAS VEGAS [LAS]
VACATION PACKAGES WITH AIR FROM LITTLE ROCK [LIT]
VACATION PACKAGES WITH AIR FROM LOS ANGELES [LAX]
VACATION PACKAGES WITH AIR FROM MEMPHIS [MEM]
VACATION PACKAGES WITH AIR FROM MIAMI [MIA]
VACATION PACKAGES WITH AIR FROM MILWAUKEE [MKE]
VACATION PACKAGES WITH AIR FROM MINNEAPOLIS [MSP]
VACATION PACKAGES WITH AIR FROM NASHVILLE [BNA]
VACATION PACKAGES WITH AIR FROM NEW ORLEANS [MSY]
VACATION PACKAGES WITH AIR FROM NEW YORK [JFK]
VACATION PACKAGES WITH AIR FROM NEWARK [EWR]
VACATION PACKAGES WITH AIR FROM NORFOLK [ORF]
VACATION PACKAGES WITH AIR FROM ORLANDO [MCO]
VACATION PACKAGES WITH AIR FROM PHILADELPHIA [PHL]
VACATION PACKAGES WITH AIR FROM PHOENIX [PHX]
VACATION PACKAGES WITH AIR FROM PITTSBURGH [PIT]
VACATION PACKAGES WITH AIR FROM PORTLAND [PDX]
VACATION PACKAGES WITH AIR FROM PROVIDENCE [PVD]
VACATION PACKAGES WITH AIR FROM RALEIGH-DURHAM [RDU]
VACATION PACKAGES WITH AIR FROM RICHMOND [RIC]
VACATION PACKAGES WITH AIR FROM SAN DIEGO [SAN]
VACATION PACKAGES WITH AIR FROM SAN FRANCISCO [SFO]
VACATION PACKAGES WITH AIR FROM SALT LAKE CITY [SLC]
VACATION PACKAGES WITH AIR FROM ST. LOUIS [STL]
VACATION PACKAGES WITH AIR FROM TAMPA [TPA]
VACATION PACKAGES WITH AIR FROM TULSA [TUL]
VACATION PACKAGES WITH AIR FROM WASHINGTON D.C. [IAD]
VACATION PACKAGES WITH AIR FROM WASHINGTON D.C. [DCA]
VACATION PACKAGES WITH AIR FROM WINDSOR, ONTARIO [YQG]