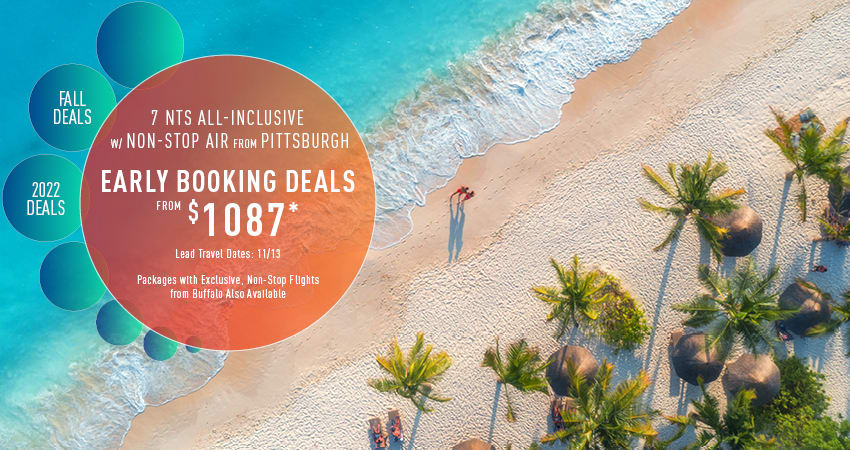 Best Vacation Packages from Buffalo
All-Inclusive Vacation Packages w/ Non-Stop Air
If you like to plan ahead with an early bird deal, look no further! With round-trip air from Buffalo or Pittsburgh and all-inclusive resorts, you'll find the perfect package to the Caribbean and Mexico. Find our best deals below or pick your ideal dates and shop using our booking box to the left.
Traveling within three days? Our Travel Advisors can make it happen! Call 1-800-309-4717 to book.
CANCUN ▪ RIVIERA MAYA ▪ PUNTA CANA ▪ COZUMEL
Save Even More with Exclusive Non-Stop Flights
Save more and spend more time on the beach soaking up the tropical sun by flying our non-stop flights to Cancun and Punta Cana! Save your spot now with a low $225 deposit! Visit the tabs at the top of this page to view even more resort deals and travel dates!
2021 PITTSBURGH [PIT]
Cancun: 6-Nights ▪ Sundays ▪ Now - 8/1/21
Cancun: 7-Nights ▪ Saturdays ▪ 8/7/21 - 12/25/21

Punta Cana: 7-Nights ▪ Saturdays ▪ Now - 12/25/21
2022 PITTSBURGH [PIT]
Cancun: 7-Nights ▪ Saturdays ▪ 1/1/22 - 6/4/22
Cancun: 7-Nights ▪ Saturdays ▪ 11/19/22 - 12/24/22
Cancun: 6-Nights ▪ Sundays ▪ 6/5/22 - 7/31/22
Punta Cana: 7-Nights ▪ Saturdays ▪ 1/1/22 - 8/6/22
Punta Cana: 7-Nights ▪ Saturdays ▪ 11/19/22 - 12/24/22
2022 BUFFALO [BUF]
Cancun: 7-Nights ▪ Saturday ▪ 2/19/22
Punta Cana

All-Inclusive Resort
Adults-Only Getaway
One Green Fee per Guest per Day Included††
9 Restaurants & 6 Bars

1 Kid Stays, Plays & Eats Free in 2021†
$1500 Resort Credit in 2021††
35% Off in 2022
ALL-INCLUSIVE PACKAGES WITH EXCLUSIVE NON-STOP FLIGHTS FROM PITTSBURGH
Cancun

Beachfront All-Inclusive Resort
Kids & Teens Club + Entertainment for All Ages
Family-Friendly All Suites Resort
6 Restaurants + 7 Bars Including 2 Swim Up Bars

Adult-Only Beachfront Haven — Beach/Pool Service
Swim-Up Bars, Lazy River, Entertainment Galore
Jr Suite - Up to 79% Off + $500 in Resort Credits††
24 Hr. Rm. Service + Full Access to Resort Complex

Kids Stay, Play & Eat Free†
ALL-INCLUSIVE PACKAGES WITH EXCLUSIVE NON-STOP FLIGHTS FROM BUFFALO
ALL-INCLUSIVE PACKAGES WITH EXCLUSIVE NON-STOP FLIGHTS FROM PITTSBURGH
Cozumel

Kids & Teens Stay, Play & Eat Free in 2021†
6th Night Free in 2022††
ALL-INCLUSIVE PACKAGES WITH EXCLUSIVE NON-STOP FLIGHTS FROM BUFFALO - INCLUDES FERRY TRANSFERS TO COZUMEL
ALL-INCLUSIVE PACKAGES WITH EXCLUSIVE NON-STOP FLIGHTS FROM PITTSBURGH - INCLUDES FERRY TRANSFERS TO COZUMEL
Riviera Maya

Up to 59% Off in 2021
$600 in Resort Coupons in 2021††
Up to 57% Off in 2022
ALL-INCLUSIVE PACKAGES WITH EXCLUSIVE NON-STOP FLIGHTS FROM BUFFALO
ALL-INCLUSIVE PACKAGES WITH EXCLUSIVE NON-STOP FLIGHTS FROM PITTSBURGH